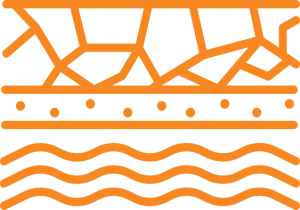 Geological services we offer range from conducting detailed site characterizations to groundwater monitoring.
Another mainstay, geological services offered by Gredell Engineering range from conducting detailed site characterizations to groundwater monitoring.  We provide services relative to drilling oversight, monitoring well and piezometer design/installation, temporary borings, whole-rock coring, geophysical well logging and aquifer testing, groundwater sampling analytical review, technical assistance, monitoring reports, compliance monitoring statistics, state and federal regulatory review and guidance, groundwater modeling and water table contour maps.
SITE CHARACTERIZATION
Another specialty of Gredell Engineering, our site characterization services include the subsurface investigation methods and techniques to properly characterize the geologic and hydrologic conditions underlying a site.  Through sample collection and characterization of soil, bedrock and groundwater, our staff geologists possess the experience and expertise in characterizing a site's geology and hydrogeology.
Site Characterization Services
Preliminary Site Investigations
Detailed Site Investigations
Sample Collection & Characterization of Soil & Bedrock
Geophysical Investigations
Sinkhole / Karst Assessment
WELL CONSTRUCTION
Gredell Engineering provides monitoring well and piezometer construction services in general accordance with the Missouri Department of Natural Resources (MDNR) 10 CSR 23-4 regulations.  Our well construction experience includes installations in soil and bedrock using drilling methods such as hollow-stem auger (HSA), solid-flight auger (SFA), direct-push, sonic, air rotary and rotary-wash techniques.
Well Construction Services
Design & Permit Groundwater Monitoring Systems
Design, Install & Abandon Piezometers & Monitoring Wells
Well Development
GROUNDWATER MONITORING SYSTEMS & DATA MANAGEMENT
The design, installation, monitoring and data management of groundwater monitoring networks is another specialty here at Gredell Engineering.  We design groundwater monitoring systems, and prepare sampling and analysis plans (SAP).  Through characterization of the subsurface geology and groundwater quality across the groundwater monitoring network, we apply statistical analysis techniques to determine an appropriate and effective statistical approach in accordance with the regulatory requirements.
Groundwater Monitoring Systems & Data Management Services
Sample Collection & Preparation
Special / Routine Groundwater Sampling
Sampling & Analysis Plans
Chemical Constituent & Analytical Method Selection
Long-Term Data Management
Statistical Analysis Plans & Reporting
HYDROGEOLOGIC FLOW ANALYSES
Gredell Engineering hydrogeologic flow analyses services begin with an extensive description of the subsurface through the collection of soil samples and/or whole-rock obtained during subsurface characterization activities (e.g., drilling).  Geophysical well logging to correlate discrete intervals, packer and aquifer testing to determine the hydraulic conductivity value of the geologic strata, and two- and three-dimensional groundwater modeling techniques are just a few of the services we provide at Gredell Engineering.
Hydrogeologic Flow Analyses Services
Aquifer Characterization
Groundwater Contour Elevation & Gradient Mapping
2D & 3D Groundwater Modeling
Geophysical Survey:
Prepared and submitted preliminary site investigation request and detailed site investigation (DSI) work plan to the Missouri Department of Natural Resources-Geological Survey Program (MDNR-GSP) for a proposed 40-acre utility waste landfill within the New Madrid Seismic Zone of Scott County, Missouri.  Services included the planning and oversight of a comprehensive geophysical survey for the initial phase of the DSI, which consisted of ground penetrating radar (GPR) technology to identify potential morphoseismic features (caused by liquefaction).  Services also included the excavation and description of verification soil test pits and the GPR survey report preparation for submittal to the MDNR-GSP.
Groundwater Monitoring & Statistical Analysis:
Services provided included the collection of quarterly groundwater samples, water quality analytical review, and groundwater monitoring reports of the 36 monitoring well network at the Ameren Missouri Labadie Energy Center's utility waste landfill.  Services also included the preparation of a Sampling and Analysis Plan (SAP) and the statistical analysis of eight rounds of background water quality data.
Karst Assessment:
Provided a professional opinion concerning an impoundment (i.e., pond) located on a property in Boone County, Missouri to determine if the impoundment was an actual karst-related sinkhole.  The karst assessment was a requirement of the county health department for the permit approval of an onsite wastewater treatment system (OWTS) to serve a proposed single-family residence that was geologically mapped in the Burlington-Keokuk Limestone bedrock, where sinkhole development is extensive.  Services included a site evaluation, geological literature review and letter report regardin.