It has been a busy start to 2023 but we are never too busy to LEARN and be involved! GER staff routinely attend conferences and special events to network with our peers and regulators and stay current on industry related legislation and changes. Here is some of what we have been up to.
John Browning attended the Kansas SWANA (Solid Waste Association of North America, SWANA ), chapter roundtable on March 12, 2023. The state of Kansas, municipalities, landfill operators and consultants attended to learn about landfill operations and concerns, gas subsurface emission violations at the well head, the RD&D rule sunset provision by EPA, disposal of wind generator blades, and the proposed combination of Kansas and Missouri SWANA chapters.
John Browning attended the Kansas Dam Safety conference on March 16, 2023, learning about dam design, dam failures, bringing a non-permitted dam into compliance, and master planning using regional detention in an urban area.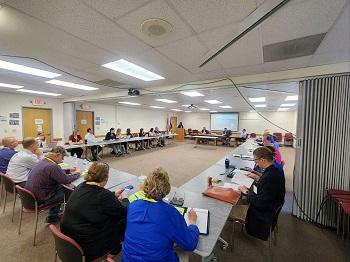 Tom Gredell attended the Missouri S&T Academy of Civil Engineers business meeting (MS&T Academy mtg) on April 14, 2023. The Academy members are outstanding alumni who bring honor to the department as engineering practitioners and leaders in community affairs.
Ken Ewers and Jacob Fitzpatrick attended the American Council of Engineering Companies (ACEC Missouri, ACEC MO Envir Energy conf ) Environmental & Energy Conference on April 14, 2023. Industry and regulatory leaders discussed Missouri's engineering future and challenges for alternative energy, electrifying transportation, and PFAS treatment.
Jacob Fitzpatrick attended Capital Day with the Missouri Rural Water Association (MRWA, MRWA website ) on April 19, 2023. This event was held to encourage members to get to know their legislators and for the legislators to get to know the Rural Water community.
On April 25, 2023, Jacob Fitzpatrick and Tom Gredell participated in the MDNR CCR (Coal Combustion Residue) Stakeholder meeting discussing the proposed Missouri permit regulation under the Federal CCR rule. GER attended the informal meeting to offer feedback on the permit rule and discuss comments from MDNR on their intentions and future plans involving the proposed regulation. MDNR CCR Permits